Radar Speed Signs coming to Hadley!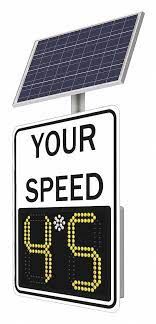 November 30, 2022
Dear Hadley Resident or Property Owner,
The City of Hadley is looking to purchase and install a Radar Speed Alert sign (similar to the one coming into Slayton) at each end of town. The total cost is estimated to be around $7,000.00. We hope these signs will remind people of their driving speed and aid in slowing traffic through town, for the safety of everyone.  
I am soliciting donations from several area businesses and other organizations who have indicated a willingness to share in the cost. This will ultimately help reduce costs to the City of Hadley.  
If you would be willing to make a personal contribution toward this project, it would also be deeply appreciated, and beneficial for budgeting. Should you choose to contribute, your tax deductible donation can be made payable to the City of Hadley with "Radar Speed Signs" in the memo of your check. Donations can be mailed to Riley Engbarth, Clerk/Treasurer at the address below, dropped off at the Hadley Municipal Liquor Store during regular business hours, or given to any Council Member.
Thank you for your consideration. We hope you all have a safe and happy holiday season!  
Merry Christmas to you and yours!
Rick Like
Mayor, City of Hadley