Street Sealcoating Project Complete
All paved streets within Hadley city limits were seal coated on 8/21/2023 and covered with a layer of rock chips. Please continue to use caution when driving on the streets in town, until further notice.

Thank you to Pearson Brothers for assisting the City of Hadley with this street maintenance project! 
Xcel Energy Project Rebuild
Line Number 0726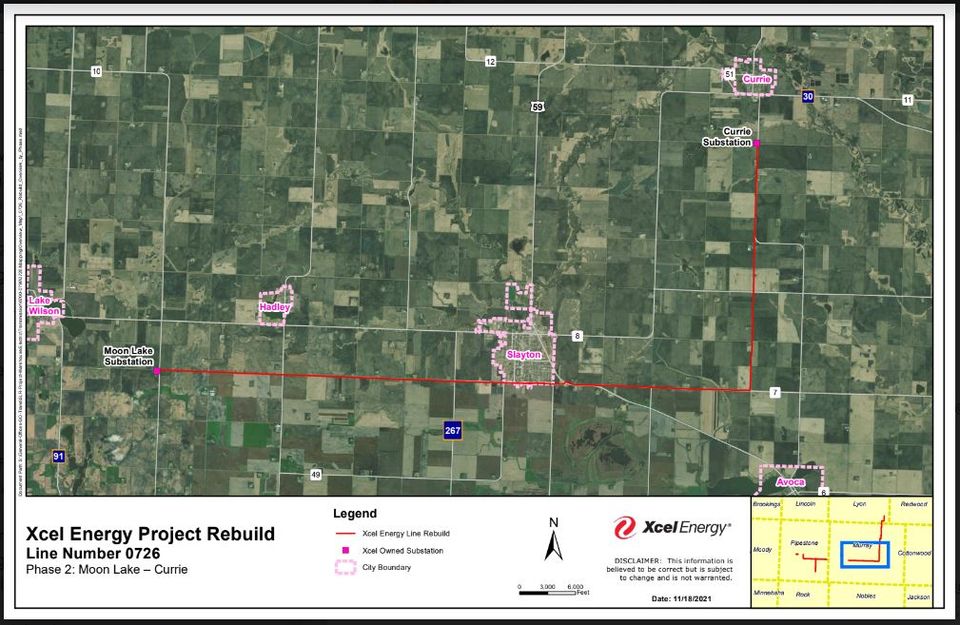 Xcel Energy is committed to delivering safe, reliable electricity to their customers. As part of this commitment, the company rebuilding the 69,000-volt (69kV) transmission line between Lake Wilson, Hadley, Slayton and Currie MN. This project will result in improvement and reliability for the transmission circuit within the area.

Civil construction is anticipated to begin the end of August, with overall construction beginning the end of September, 2023. Project completion is slated for late spring/early summer of 2024.

Questions related to the project can be directed to Xcel Energy at 
(651) 955-5104. 
B-Z Summit Lake Properties
Wildflower Pointe is a Conservation/Environmental/Recreational Development on Hadley's Summit Lake. The area consists of 9 residential building lots, lake and adjacent ponds, and two outer lots... one of which has shared ownership by all lot owners. The development has a serene, slow paced setting with great views of the lake, ponds, Buffalo Ridge and the windmill farms, Chanarambie Valley, in addition to wonderful sunset views. There is shared shoreline ownership by all lot owners, as well as private lake access. Covenants also are included to safeguard the quality and value of the development. Each residential building lot varies in size, ranging from 28,500 square feet to 41,169 square feet, all with their own unique views. There are public utility water and sewer hookups at the curb of each lot.

The Wildflower Pointe development is lake, country, city, and wide open space all rolled up into one. If you enjoy sunsets, wildlife, water and nature at its finest... this is a great location to consider for the construction of your new home.

For additional details on Wildflower Pointe, contact Mike Zinnel of B-Z Summit Lake Properties at (612) 810-3709.
Summit Acres Development
Summit Acres Development features 12 lots situated on the South side of Summit Lake, with 6 of the lots having direct access to lake shorefront. Each sizeable lot offers a unique view of the lake with easy access to roadways, while still offering the peace and quiet of rural living.
For details on the lots still available for purchase within the Summit Acres Development contact:
Dale Pavlis
Pavlis Auction & Realty
12 Summit Lane
Hadley, MN 56151
(507) 227-9398
dalepavlis@frontiernet.net