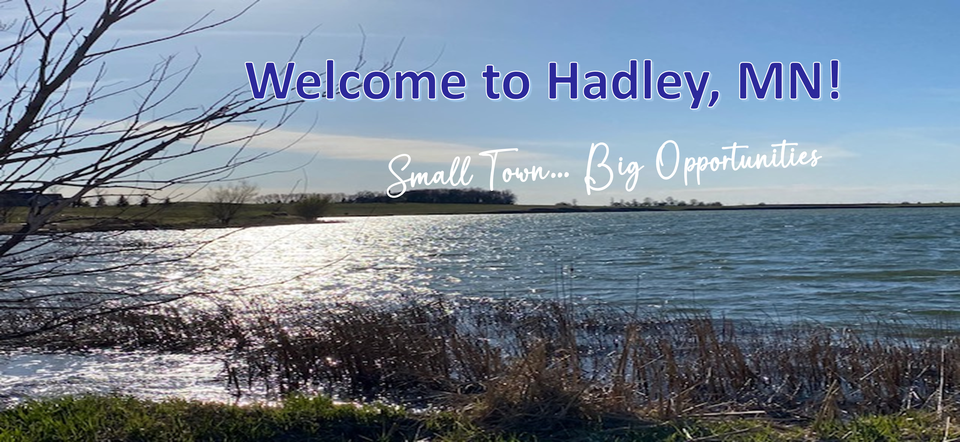 We're glad you're here!
Welcome to the official website for the City of Hadley! Make sure to check back often for updates on all things Hadley. Stay tuned for information on upcoming events, city business, announcements, promotions and more.

Have an upcoming area event that's not included on our list below?
Email the details to cityofhadley@gmail.com and we'll be sure to promote it!
CITY OF HADLEY COUNCIL MEETING


Monday, September 11 2023 at 6:30pm
Hadley Community Center



CURRIE TOWN & COUNTRY BOOSTERS B-I-N-G-O


Tuesday, September 12 2023 at 6:30pm
Avoca Municipal Liquor Store



CURRIE TOWN & COUNTRY BOOSTERS B-I-N-G-O


Wednesday, September 13 2023 at 6:30pm
Pelican Cove on Lake Shetek



HOSPICE OF MURRAY COUNTY RUMMAGE SALE DROP OFF


Tuesday, September 12 - Friday, September 15 2023 from 9:00am - 7:00pm
Murray County Fairgrounds, Slayton



CURRIE TOWN & COUNTRY BOOSTERS B-I-N-G-O


Tuesday, September 19 2023 at 6:30pm
Avoca Municipal Liquor Store
CURRIE TOWN & COUNTRY BOOSTERS B-I-N-G-O


Wednesday, September 20 2023 at 6:30pm
Pelican Cove on Lake Shetek



HOSPICE OF MURRAY COUNTY ANNUAL RUMMAGE SALE


Tuesday, September 19 - Friday, September 22 2023 from 9:00am - 7:00pm
Murray County Fairgrounds, Slayton



HOSPICE OF MURRAY COUNTY ANNUAL RUMMAGE SALE


Saturday, September 23 2023 from 9:00am - 12:00pm
Murray County Fairgrounds, Slayton



HADLEY LIONS MONTHLY MEETING


Wednesday, September 27 2023 at 6:30pm
Hadley Community Center



CITY OF HADLEY COUNCIL MEETING


Monday, October 9 2023 at 6:30pm
Hadley Community Center



HADLEY LIONS MONTHLY MEETING


Wednesday, October 25 2023 at 6:30pm
Hadley Community Center